The Disclosure and Barring Service (DBS) helps employers and voluntary organisations make safer recruitment decisions. It helps to prevent unsuitable people from working with vulnerable groups, including children. DBS replaces the Criminal Records Bureau (CRB) and Independent Safeguarding Authority (ISA).
DBS is just one part of a safe recruitment process which should also include references, induction and supervision.
SCVYS is a registered body for DBS and can process standard and enhanced applications for volunteers and paid workers.
The SCVYS team are trained to help complete applications and can verify evidence to confirm the identity of the applicant.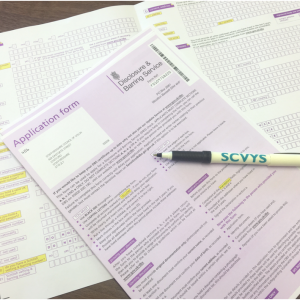 Employers (and volunteer managers) can check the criminal record of someone applying for a role. This is known as getting a Disclosure and Barring Service (DBS) check.
You can request a more detailed check for certain roles, for example in healthcare or childcare.
In order to establish whether a DBS check is appropriate and if so, which type,  you should use the DBS Eligibility Tool and read the Eligibility Guidance. 
For more information on the DBS service offered by SCVYS, please contact Debbie Mason (Lead Counter-signatory) on: 01785 240378 or email: office@staffscvys.org.uk